These are transcriptions from newspaper cuttings, diary entries and other personal documents. To see them click on the link
Extracts from two 19thC Rimington diaries (pdf)
Newspaper reports of fires at Black Bull Inn & Newby Mill (pdf)
Newby Mill in the news, icluding fire (pdf)
Stopper Lane, Abstracts of 19thC Deeds (pdf)
Stopper Lane, Abstracts of Deeds of 4 cottages east of the former shop (pdf)
Inn keepers in Bowland (pdf)
The will of Thomas Lister of Arnoldsbiggin 1707 (pdf)
The will of Christofer Lister of Medehoppe 1548 (pdf)
The sales of two significant estates
Lord Ribblesdale and Lane Fox both had significant land and property holdings in Rimington and Middop.
In 1918 G.R.Lane Fox wote to his tenants to say that he was selling the whole of his estates at Rimington and Elslack to Mr Walter Pollard of Nelson.
G. R. Lane Foxs' letter to tenants 27 January 1918 (pdf)
Subsequently Mr Pollard became bankrupt and so the estate was sold on 18 March 1924 ( some lots having been sold privately before the sale).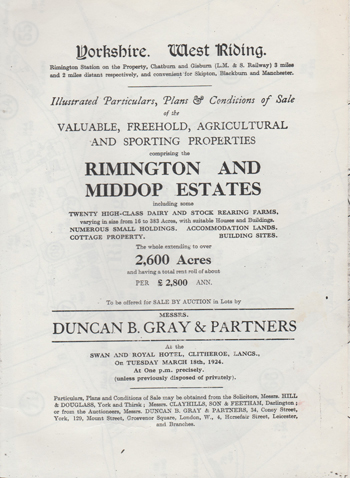 In September 1927 part of Lord Ribblesdale's estate was sold
Newspaper report of Lord Ribblesdale's estate sale (pdf)
1967 Floods
There was significant flooding in the village in 1967 which destroyed footbridges at Newby and at Stankhill and also caused significant damage to the culverted beck under the railway line. Laurence Silverwood took these pictures
-